I am not a lover of the subject of this weeks theme for Margarets swap (MAMMA) but as I like a challenge - or so I keep telling myself - I jumped in with both feet and looked out some sparklies for this weeks atc's. Yes, atc's; I finally made a set of three. Prepare for a revelation:-



The first is a portrait of an african male figure, sporting a metal leaf from copper wire. The wire is threaded through holes either side of the head of the image, to give a sort of 3-D effect. I then went a little mad and started adding a "metallized ribbon, a fancy thread and a few sequins" to add a little bling to the card. Oh and the background is from a
photo pool on Flickr
, offering free to use collage images. My apologies to the person who posted this on the group. I will promise to make a note of names in the future in order to give due credit.
You may remember this image from the
African Angel
in a previous post.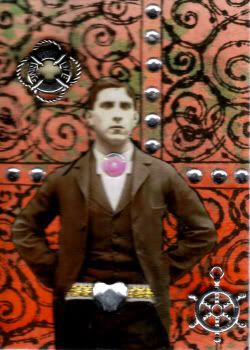 The second was of this sturdy fellow standing in front of a home-made background. A watercolour wash over-stamped with a stamp free with a magazine earlier this year. I used a couple of charms, lots of gems and a little bit of gold metallised ribbon, with a heart shaped gem as a buckle. No he is not a superhero, and he is not wearing a posing pouch on the outside of his trousers; as suggested by someone who shall remain nameless. She knows who she is!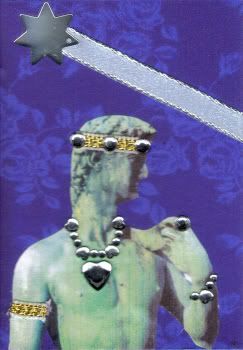 The last ( but not the least?) is this fine figure of a statue bedecked in faux gems and ribbons. And catch the shooting star !!! And yet again,
this image has been used previously
.