Well it has been a week since my last post, still getting back to normal after all the hassle of the last few weeks.

I have been playing with my new stamps (purchased from ebid) I have bought several specific stamps and a few small collections from this seller, they have all been very good.

I did a small series using a stamp of a geisha, and intend to do several more but will get more complex as I progress thru this series. Unless they start to get too busy. I liked the first three because of their simplicity, but too many could be boring. See what you think:-



SORROW - BLUE



SORROW - GREEN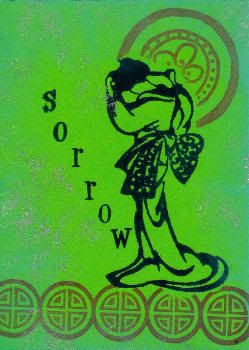 SORROW - YELLOW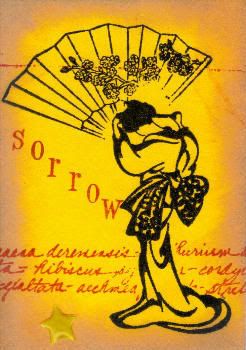 The first here (blue) was created by stamping the image of the geisha on a light blue card and layering onto a darker blue background. The japanese character was embossed and treated in the same manner. The ribbon was added in actual fact as an afterthought, but does pull the whole thing together. I often start atc's without a clear idea of where I am going with a particular piece.
The greencard was actually the third. It shows an example of stamping using a masking technique to make it appear that the geisha is in front of the other stampings. the card is edged with a blue chalk although it does not show up well here and I used a crumpled tissue to put silver acrylic paint "splodges" over the surface around the main image.
The yellow card also uses a masking technique and the edge chalking shows up much better here.
I have used this
geisha stamp once before
, again a quite simple atc to complement the image but covered the whole card with a voile material, held on with brads.