Wow, it has been a busy week but have finally managed to get a little time for some creative crafting. These are four cards which I have made for the Make it Mondays challenge on Lisa Vollrath's site.


The first two are based on a theme of ITALY, for these I have used downloaded travel posters and made simple collages. Sorry for the clarity I used a camera rather than my scanner and did not use a tripod - MUST learn!!!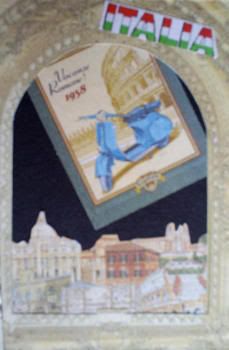 The next two were for an earlier challenge based on the colour yellow. I have to say that I had a great deal of difficulty with this. Usually colour is not an issue for me but I had nothing in yellow and couldn't stamp in yellow (so I used gold!!). had to think hard about this one. Again the photos are a little blurry. I had some 3-D stuff to photo and tried to get them all done together, I will remember next time.
This is not one of my normal atc's, I do not usually use these sort of items but I had been given them with some bits and pieces and after all they were yellow. The paper used for the background had been painted by dragging acrylic with a spatula, an idea from the
Go Make Something site
which I have used several times now.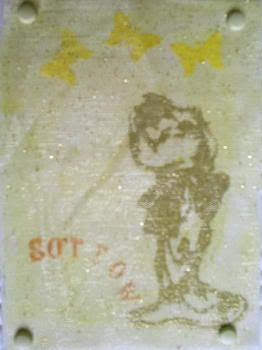 This one is also a little different for me. Quite a sparsely decorated card. I painted the background with sparkling yellow watercolour, let it dry and then stamped and embossed the geisha. the butterflies were die-cuts and the text stamped. The whole thing is covered with a voile material (gold with white bobbles randomly included). I would normally use a lot more to make this sort of card but I just like this.
well that's enough for now, back to the gardening......