I have made a couple of Alice themed ATC's for the Make It Monday's challenge this week. A little late but then better late than never. I always like to look for a different angle and I hope both of these are a little off the beaten track.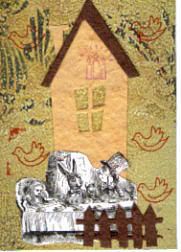 The first is a little piece showcasing the Mad Hatters Tea Party in a garden setting. The template for this house and woodwork came from Dan's Blog,
My Crafty Life
, on which he regularly posts useful templates on a Saturdays. BTW I have called it the garden party, just to be different.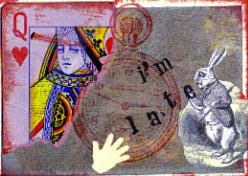 This atc,called i'm late, is a nod to the scene in which the white rabbit is checking his timepiece after losing a white glove. he is late for a meeting with the queen of hearts! Alice follows him down his rabbit hole and so begins her adventure in wonderland.
The only issue I have with these is that I think the main characters are too small and because of the original are not black enough to provide a sufficient contrast. I must learn to try and size these these and possibly modify them where necessary before printing them out. I think these are from the original book illustrations.