Well here I am again catching up with the challenges and swaps that I have set myself. Life is simply too short. These two new ATC's are for the Make it Monday's challenge set by Lisa Vollrath.



The theme was Mona. I nearly called this "gerroutofit, it's my frame" but decided against it at the last minute. It has been collaged from various images and die-cuts.

The deliberate mistake is that the hands are the wrong way around, the thumbs should have been pointing inward - try it!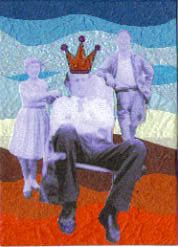 On the theme of holidays. The background was made by layering strips of various papers and the images are from three different family photos. the crown was stamped and coloured with permanent markers.
This last was also made with a swap in mind so is not available. Check out my atc's for trade on Flickr, at the top right in the sidebar
Well off to carry on with the crafting!