Sorry for the time since my last posting, but I have been away to Dublin to attend a funeral. The second this year unfortunately... I guess that it is a consequence of growing old that one unfortunately loses relatives at an increasingly unhappy rate. This was actually an aunt of my wifes, who had suffered a long and debillitating illness and in a way it is a blessing that she has finally passed away. On a brighter note, we met some cousins who my wife had not met for decades and have established contacts which we hope will last.

I have a couple of watercolours to show in this post, don't know if I was compensating for the past few months but they are a little bright and colourful, certainly not what I had in mind when I started them but out they came. I was at my art group yesterday, idly looking thro' a magazine for inspiration (not an easy task!) and decided that I simply had to do something as I was procrastinating and time was passing. I have got into a frame of mind where I need to complete a painting there and then, maybe a consequence of painting in such small format. Anyway here they are:-


The first is a fanciful picture of Bamburgh Castle, a much painted view across the beach. I have done this myself more than once which was probably what caught my eye last night - thinking it might be easy? The red sky came about because I wanted it to be different to the image in the magazine and in a convoluted way my son had just come back from Stonehenge, where I had painted the stones with a similar backdrop quite recently.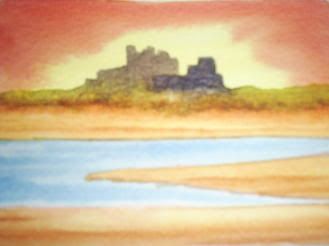 The second is of a sunrise over a lavender field, I assume that it was Provence in France, although I did not look too closely at the accompanying article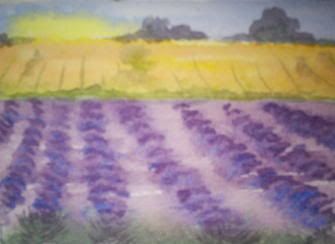 Both are very loose and impressionistic, which I have always loved as a style. Although it could be my laziness and the lack of a need for accurate drawing. I am listing both on Ebay, I will let you know what happens.