Well I just had to come back and put up another post, I couldn't leave the fairy at the top of my blog for long - know what I mean?

Here is another recent example of the type of work I have been developing with this new group. All the doodling and other techniques is I hope going to culminate in this sort of thing. Which I think is better called an assemblage. I will have to look up the difference between collage and this term on Wiki and answer my own question in my next post. This one is called Africa Series - beads and flower. The reason for this title is that I have aquired some stamps and accents/embellishments along the theme and I am going to use them up come hell or high-water. Here it is , hope you like it.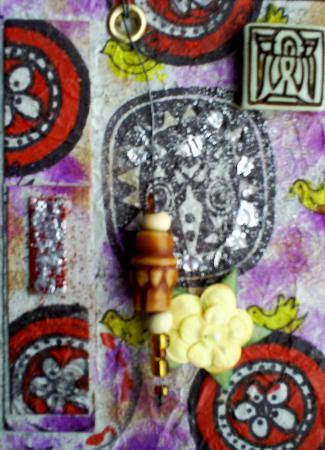 Just a little background to the methodology, to remind me really of how I made it as I quite like this one:- I layered some crumpled tissue paper to a card and then cut it to the ATC size. The offcuts, I used to build up the left-hand side and topped this with a little heat-embossing. I stamped the mask motif with black ink and used a bunched tissue to stamp coloured ink (2 colours) over the surface. I also stamped the small birds and the circular motifs and coloured these in. The small tile and the yellow rose were embellishments that were handy, and I put a few beads onto a wire which was attached via the eyelet at the top. there was also a little embossing around the main image in a random manner.
Et Voila, I hope the culmination of my experiments with
collage
,
doodling
,
zentangles
and zetti, not to mention art dolls will be altered art works.
BTW, have I not entioned zettiology before? Oh boy - you are in for a surprise! But it will have to wait for next time.