Just a quick entry to show one ATC I did for a swap on the theme of my favourite things, for me there is no competition. It has to be my guitars.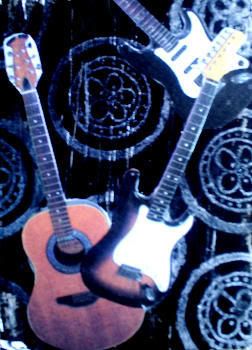 again couldn't be simpler. Have been taxing my brain with too many new techniques lately and felt like a well-earned break.
BTW I have started posting videos of some original material on You Tube. No slick edits, or sound production. I stuck a digital camera on the dining room table and recorded a song with out rehearsal and accepted the first take with warts and all.
This is a song called "Going To The City"
and is the first in a continuing series. If I get too involved in this I may start another blog just for my musical activities but just for now the two hobbies will have to get along together.
Rock on, brothers and sisters