Had some very bad news yesterday evening... a cousin, who is more like a sister to me, was told by her doctors that her fight against cancer has virtually been lost and that she should consider that she perhaps had only four weeks to live. It has ben a long struggle and before Christmas it looked as though she had beaten it, but a check up showed it had come back with a vengeance. Will be seeing her later today but what can one say...............?

In the meantime I am posting a couple of items which I had done yesterday. Terrible weather and decided to stay in anad make art. The first is another ATC from the goodie bag bits and pieces described in my last post. I did however use a figure from the free samples provided regularly by Dover publishing. A figure always seems to be a central focus in my ATC's - perhaps because they are so often absent in my paintings.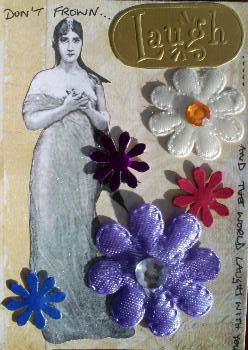 The second photo shows a painting (aceo-sized) of Haveringland church (Norfolk, UK). This was done from a sketch I did a little while ago. The sketch was a little hurried and I believe I may have got the architecture wrong on the tower - but hey... that's what artists' licence is all about.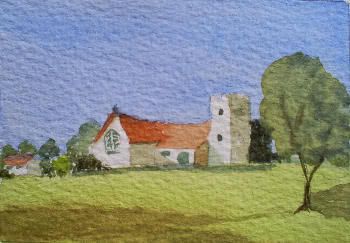 It is only a very loose, quick painting, but it feels good to be using brushes again for something other than glue.
NB: Just checked Wikipedia; the tower is actually
round
, my apologies to all concerned with the village or the church. Will be trying to do another from a photo off the web which corrects this anomaly.
PS is the atc above a collage or do the 3-D flowers/jewels combinations make it an assemblage. Or is it something else. As a 'newish' crafter I am confused by the terminology.