Here I am again with another pastel painting. Not what I would call a masterpiece, but another step in the long road back to producing drawings/paintings. I have been quite busy of late and have not kept my promise to myself of starting a sketch book to try to recover some of my old skills. Too much abstact painting and papercrafting/craftwork has left me feeling just a little lost when it comes to this sort of thing. I never was what you would call a draftsman but I did feel that I could do a fair job, I have a lot of hard work ahead.

For a look at the original try here and for more work by Marc Chagall (an artist I admire tremendously) try this link

My own poor version of this self-portrait shows that I have a love of colours which is not evident in the original. I can't resist using the brighter colours which jump out of the box of pastels at me. I evidently need to retrain my hand to work in co-ordination with my eyes. I have lapsed back into the approach of drawing what I want to see or what I think is there rather than what I actually see. Anyway, here it is:-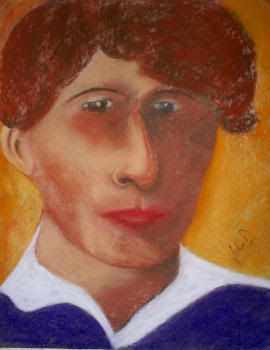 actual size 14 X 10 inches

Look at any area in detail and it is quite easy to spot the differences which contribute to the overall failure to capture the likeness. The ear, for example, I have drawn shadows which aren't on the original... but which I would have expected to be there. The eyes in my version are smaller and closer together. The nose is more bulbous and the mouth.... well I had so much trouble with that it is not true.
However I post the portrait here as another marker in my return journey. I must get out my sketchbook and get back to seeing what is there. It was always a problem with me and I have just allowed the discipline to drift away. Possibly one of the reasons why I always liked landscape painting. More freedom and less hassle trying to get things "right".
Anyway back to papercrafting and altered art this morning, my sketch book will have to wait.