Did you see the pastel painting I posted recently (after Chagall), I decided to give it a little digital treatment, just to see what I could do with it as I am still learning the capabilities of my new toys. I think it is an improvement, even tho' the texture of the pastel has been removed.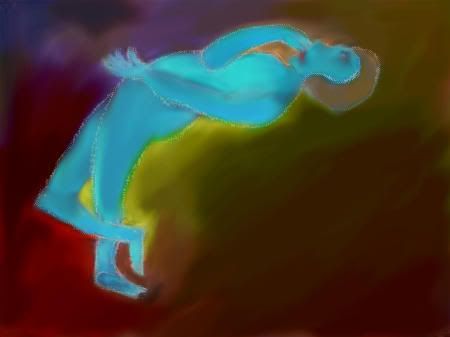 What do you think? I hope I have improved on his face ( very difficult to do details using stumpy pastels). But he still looks pregnant and I have not spent too much time on his hands and feet. Wow don't I exude confidence - not!
You can see the original via the link on the previous post.
I have to say I am spending rather a lot of time creating digitally altered images at the moment. As I said above just trying out the new toys. 'Fraid I couldn't afford the best but the freebies that I have been playing with are giving me so much to think about at the moment.
The ones I have been using are Serif Photoplus 8, Art Weaver, Project Dogwaffle and Art Rage. All are available as free downloads, wonderful thing the web.