Hi, my group NI has been working with a new technique to many of us. It has been described by Berni Berlin in her book, "ATC Workshop" and by Shelli Heinemann in the magazine "Art Trader".

Basically it entails selecting an (inspirational?) image to use as a starting point for the final work. the image can be used as it is or cut out from surroundings if only a portion of the image ( often a face/portrait) is to be used. This is layered onto card stock, and painted using gesso or a diluted acrylic paint to wash out the details. When dry, the required details are drawn in using a pencil or waterproof pen. Colour can be added as required, here I have used permanent markers. Although it is possible to re-create the original image, further scope is available by creating a new image from the basic outline. It is also possible to use collage to build up the image.

here are my first three examples using this technique; I have kept the painted image quite simple as I have largely been experimenting with the technique. I do hope to be doing more in the next few days and will be posting these as and when they are available.



I am afraid this shows a lack of appreciation of the potentialities in altering / modifying the hairstyle. Make a note to myself to be careful with this in the future..............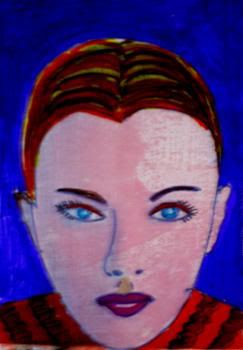 I am in fact using a watercolour felt-tip pen here to paint the skin tone in the face. Not sure why the paint has reacted as it has done. Worked well over most of the face but in some areas has not taken at all, but I actually liked the effect...............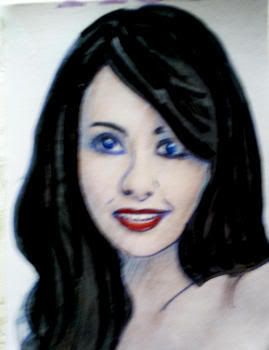 Sorry about the lack of focus here. I think this is the best of the three so far, actually the first one that I did. I used a metallic acrylic paint in the hair and then repainted with black pen to achieve what I think is a very good effect. Pity you can't see it in the photo.
Well I don't know what this has proved so far but again I enjoyed using the new technique and learning from the mistakes which have been made. watch this space...................