A recent challenge to make atc's from baby wipes coloured with watercolour in the manner of Bernie Berlin, had left me with several extra sheets of background paper which I decided to put to use. I was a little constrained because of a situation at home but found enough inspiration ( and scraps) to make the following two cards.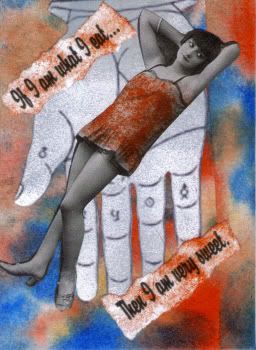 "Are you my mother?" and "I am very sweet" are both quite simple collages. The coloured baby wipe as a background, a main image and another to complement (the ribbon and the hand) and finally the text. I often wonder if I should put a lot more layers, images and other bits and pieces on my collages. I see many like that and often find them excellent, it worries me that mine are too simplistic. They are however in a similar style to many of my paintings - which I guess is me. Also, I was very pleased recently to be paid a compliment by
Cathy
about my collages where they were described as "clean and masculine". So perhaps I will carry on as I have been doing, and leave the decoration to the ladies.