Well, came back from my art group with another couple of watercolour paintings this week. I have been posting one or two sketches using this medium of late and felt I needed to do something a little more specific. But as I am a little on the impatient side and wanted to complete a painting, it had to be aceo size (2.5X3.5 inches). In the event, I actually completed two. Still more sketchy than anything, they are both landscapes showing a sunset over distant hills with trees in the foreground to add a little detail. I was quite pleased with the foreground here, nice and loose.

Haven't yet titled them which is unusual for me but I have done a few sunsets recently and have run out of ideas. In fact as an afterthought they could well end up as, " sunset over distant hills 1 and 2". Well it is at least they are working titles.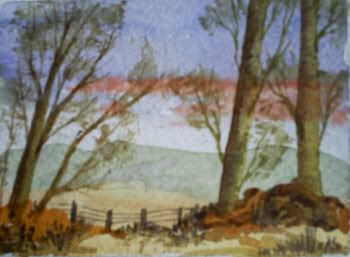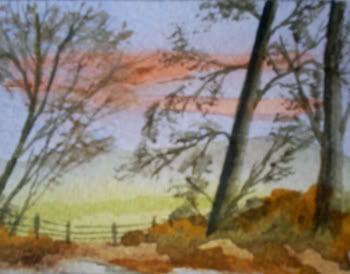 One other thing I have been upto recently was to make another art doll (or button fairy)for a swap by
Mamma on Flickr
. My own take on this of course had to be different again ( see African art doll) and I ended up making an North American Indian art doll.I was actually too late for the swap as I was working towards the end of the week when it was the end of the month ( a friday)so I am stuck with it. Will have to hang it up with one or two others in my studio ( well loft space to my friends)LOL.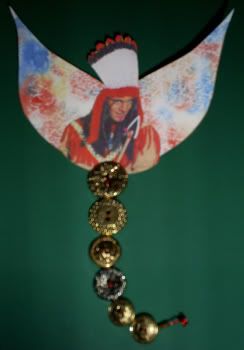 Well that brings me up to date on my art work, will have to go and start creating some more art - see you.