Crafting has been a little slow of late due to family issues but I am still going to my art group every week and doing a little painting. In fact this week I did three little paintings (LOL). Hope you like them. they are all watercolour, my favourite medium and definitely the best for such small works of art.


This is not my usual subject although I would like to think my style is still apparent. I called this one, The North Wind Doth Blow. I have to confess this is copied (shock, horror) from an old issue of
Leisure Painter magazine
. It was done simply to practice the simplistic, impressionistic way of painting the figure in a stormy setting. In fact, I used the original as a reference and it is such a simple painting that it was difficult to put my own interpretation upon it. I would not normally condone direct copying but it was done for all the best reasons. The only problem is that I cannot give you the name of the original painter.

This painting was called, Poppies. Took me a long time to think of that title, LOL. The lighter marks in the foreground have been made with a cocktail stick before the paint was fully dry, I think this helps to bring the foreground towards the viewer and add a little depth to the painting.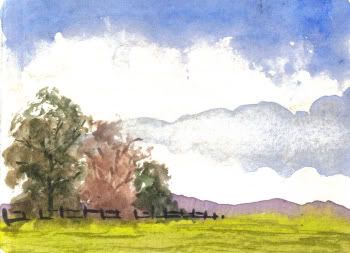 The last of the three I called, Clouds. It could have been Trees or something similar but I made my mind up. Unfortunately, this painting has been scanned (in fact all three have been imaged in this manner) and the clouds are not seen properly. Should I have used my digital camera (
see my previous post
)? Well yes, but These were the paintings which raised the question posed in that posting and I haven't managed to take a decent photograph yet.