I asked my group to bring their collages back for me to photograph - can't believe I forgot to take my camera to the workshop... AAARRRGGGGGHHHH!

One or two of them did bring them in and I have managed to include them here for your delectation. I hope to have more next week.

these are amateur artists who have never tried collage before, and I think that my work over the past few weeks has really paid off by getting them interested in the possibilities of this media. the first is titled, " Four Seasons". It is a very busy piece but that should not detract from the beatiful artwork that it is. The photograph does not really do it justice, or any of them for that matter.

The lady concerned ( and it was all ladies who bought their work back to be photographed) had a little trouble to begin with. She had the idea to show the four seasons but had what I would call "white paper syndrome", not quite sure where or how to start. I suggested that she use coloured paper to quarter the groud and this seemed to give her the impetus that she needed to really start glueing. Once started she certainly went for it.


The second one her was inspired by the release of the new Bond movie, the lady concerned, an accomplished artist, collected the images and was able to readily create the collage. A gold coloured thread and beading completed the work.
This work entitled "The Enchanted Wood" has to be seen to be appreciated. Again the lady concerned had not done any collage but was inspired ( I like to think) by the work I had done over the last three weeks. She had included some lovely images but the real beauty was the plaited wool that she had used for the trees. the sky was painted in acrylic and the foreground was a patterened (and padded) fabric in beatiful green, red and gold colouring. A really special artwork which I was so pleased to in a way, have been responsible for.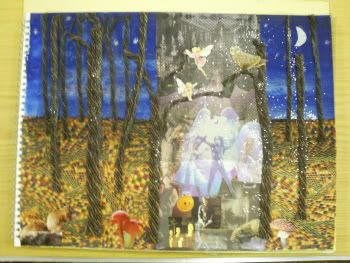 I will try and get the other members of the group who participated in the workshop to bring back their collages for me to photograph. Everybody managed to complete something and all of them were so different. It was one of the most successful workshops that we have had as a group, even tho' I say so myself. I hope that we can repeat this next year.